This page is long outdated. If you are not automatically forwarded, Please click here to go to www.blacktauna.com/sca


Welcome to Lady Tauna AElswith's Medieval Sources
This is the information I have gathered over the years from the SCA, Markland Medieval Militia and Academic sources. I don't do alot of this anymore but if you have anything to add or any corrections, I'd be happy to hear from you!
Medieval Cooking
One area of interest for me is cooking. I have a bunch of recipes that I have used over the years for feasts, which have come from Medieval sources. They are presented in original form, direct translations and useful modern recipes.
Medieval recipes

The Byzantine World
My favorite area of the medieval world is the Byzantine Empire. Actually they called themselves the Rhomanoi, or citizens of the continuing Roman Empire.
Byzantine World

Medieval Middle Eastern interests
There is an active group of Drummers, Dancers, Storytellers and Middle Eastern Enthusiasts all over the SCA. The al-mustarib is the newsletter, run by Baron Dur ish Jabal.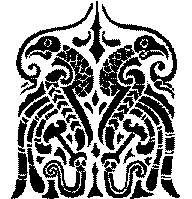 Medieval Hobbyists
If these things interest you, there are at least two groups who can help you enjoy the Middle Ages. The SCA is a group that re-creates various aspects of the Middle Ages, through Arts, Crafts and Simulated Combats.
There are a couple of web pages for the SCA:
*SCA Web
*East Kingdom Homepage
From there you can find the local group you are in. I live in the Crown Province of Ostgardr.


Pennsic
Every year 9,000+ people gather at Cooper's Lake Campground. Newcomers need to be prepared, so read the Rialto (rec.org.sca) starting in May. Also read Humor List for a tongue in cheek look at what you can expect.
Markland Medieval Militia is a similar group that focuses more closely on military areas with rec and frat fighting and battle re-enactments. It is centered on the East Coast from PA to SC.

Medieval Humor
For a look at humerous Medieval Movies
Scholars reviews of our most and least favorite Medieval Movies.

Museums on Line
---
Author: Black Tauna blktauna@shawstudios.com
Last Updated: 11-27 2000
---